Silhouette Thread Lift from Silhouette Soft
Introducing the Silhouette effect!
Silhouette Soft is a simple and safe procedure that produces an instant rejuvenation with a long lasting effect. Gillian Taylforth (Cathy from Eastenders!) has become the face of this treatment as she was so happy with the results! Read below to find out more about this exciting new treatment.
What is Silhouette Soft Thread Lift?
The Silhouette Soft Thread Lift is a 30 minute procedure that re-defines your face and restores volume while smoothing and toning your skin. There are 2 main results from the treatment.
A lifting Action for immediate effect
A regenerative action for gradual and natural results. Over time Silhouette Soft stimulates regeneration of lost collagen in the face to redefine your features and encourage volume.
Where Can A Silhouette Soft Thread Lift Be Done?
The Silhouette Soft Thread Lift can be used to rejuvenate:
The Brow Area
Mid Face (Cheeks)
and the neck area
Who is eligible for A Silhouette Soft Thread Lift?
Silhouette soft is suitable for both men and women looking for rejuvenation and who do not want to go the risky step of a full surgical facelift. An optimum patient would have:
Midface Skin Drooping
Malar Volume loss (cheeks)
Drooping jawline
Brow drooping
Neck relaxation (sagging)
A consultation is required before the treatment with your doctor who will ensure that you are suitable for the treatment.
How Is It Done?
The whole procedure only takes on average 30 minutes! First local anesthetic is given so nothing can be felt at all during the treatment. Then using a fine needle thread made of polylactic acid is inserted under the skin at about 3-5 millimeters.
This suture (stitch) is held in place by absorbable cones under the skin which are set in opposite directions to ensure it stays in place.
After the thread has been inserted we then mould the tissue to reshape it and create the desired lifting effect. Depending on who is being treated and where more than one thread may be used.
Do Thread Lifts Hurt?
Before the treatment starts local anesthetic is used so nothing can be felt during the treatment.
Is There Any Downtime With the Silhouette Soft?
After the treatment there is minimal downtime, some people may experience slight swelling or redness that will be gone very quickly. There may be some slight wrinkling of the skin which which is completely normal and will disappear very quickly.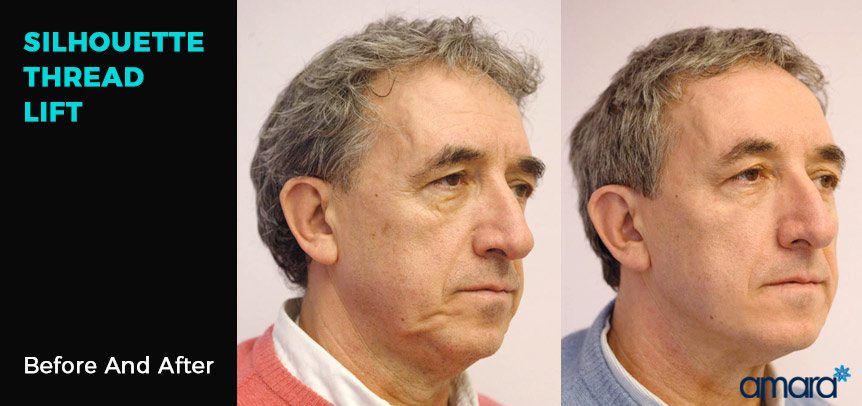 How Long Do The Results Last?
The Silhouette Soft thread Lift lasts for up to 18 months!
Get Your Own Silhouette Thread Lift
To be one of the first to get the Silhouette Thread Lift in Ireland fill in the below form and we'll contact you once the treatment is available! Alternatively you can give us a call on +353 1 676 1074 to find out more about this new treatment!
Oops! We could not locate your form.
---
---