The Amara Philosophy – Subtle, natural results that last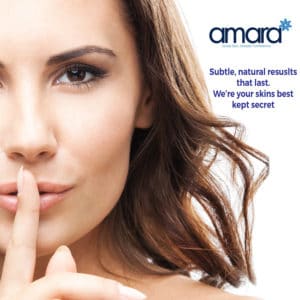 At Amara, we aim to enhance your natural appearance and attractiveness. Our reputation has been earned through honesty at consultation, integrity in our treatment plans, and patient satisfaction with our results.
We do not believe that all of the looks and trends you might see on Instagram, Facebook and Snapchat are aspirational. We are very aware of the role that influencers, social media, and celebrity culture can play in motivating some patients to seek a certain result or look. The digital space means some people have unrealistic treatment aims which are based on what they see on the internet where photo-shopping and filters are rife.
While some people may desire looks they've seen on social media and in glossy magazines, these results are not always possible to achieve safely while maintaining the integrity of your natural look in the long term. Our medical team prefer to pursue natural, balanced results. We treat to ensure that the proportion, definition, balance and natural shape of your face is not compromised in pursuit of unrealistic beauty aims.
The result of our philosophy is that we politely decline to treat roughly 1 in 11 patients that come to see us. We reserve this right in cases where –
A patient seeks a treatment we consider unsafe to perform
A patient is seeking a completely unrealistic treatment outcome
A patient makes demands over the amount of filler they want us to use
Not enough time has passed in between treatment times
Natural, subtle results that enhance your natural look – this is the Amara way.
Our rigorous approach to patient care was recently praised in an article in The Irish Times.
Testimonial
The treatments are excellent with results effective but natural. I travel two hours for their treatments which is testament to the top class service and results experienced at Amara Clinic.
Shirley, 43
How many ml's of dermal filler should I get?
There is somewhat of a dated question. It undercuts the sophistication of the treatment you'll receive, the products we use, and the experience of our doctors at Amara.
Not all dermal fillers are the same, even if they are hyaluronic acid too.
The volume of filler used is not the best measure of a treatment or the result that can be expected. A 1ml treatment with one type may be replicated with a 0.5ml treatment of another. In the case of higher quality fillers, smaller volumes will do more and will likely last longer than cheaper brands.
At Amara our preference is for the FDA approved family of dermal fillers from the Juvederm Vycross range. These are well studied, high quality products that are widely considered to be the best technology available today.
You will never receive any product that isn't FDA approved at Amara. While FDA approval is not necessary for use in European markets, it is nonetheless the gold standard for clinical safety and quality.
We are a results based clinic. Results and patient satisfaction is what we have built our reputation on. When we treat our patients we treat with results in mind, not volume.