Dermal Filler Treatments for Men Essentials
Area treated:
Male cheeks, tear troughs, jawline, nose
Assessment:
Our doctor will assess your face and design a treatment plan to effectively restore structure and volume where required
Treatment:
Dermal filler injections
Time taken:
Assessment 10-15 mins, treatment 20-30 mins
Comfort:
People rarely report that this treatment is uncomfortable.
Results seen:
Immediate
How long will it last:
This is patient dependent but our preferred products are all FDA approved for a minimum of 12 months.
 Dermal filler treatments are increasingly popular among men.At Amara, cheek, jawline, nose, chin and tear trough filler treatments are the most inquired about dermal filler procedures. Lip asymmetries and corrections are also on the increase.
Quick, effective and with instant results, these treatments restore definition and strength to facial features. The visible effects of ageing can be addressed using dermal fillers without feminizing the face, which is a common misconception among male clients. To do this, the male anatomy needs to be understood and respected.
At Amara, all of our doctors are trained to deliver the best results possible by providing male treatments that effectively address male specific concerns.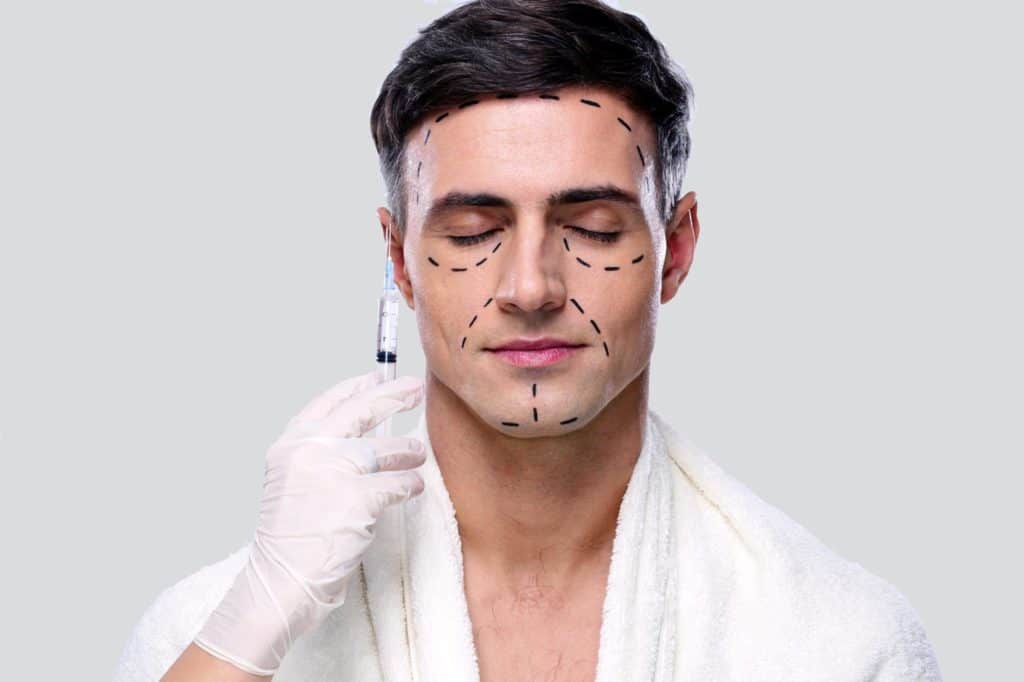 What do dermal fillers do?
Dermal fillers are made of Hyaluronic Acid. This is a natural component of the skin and as we age our skin loses it. Dermal fillers:
| | |
| --- | --- |
| Replace lost volume | Restore structure |
| Add definition | Correct asymmetries and imbalances |
Where do men get treated with dermal fillers?
The most commonly sought after dermal filler treatments among men at Amara are:
| | |
| --- | --- |
| General Dermal Filler | Small amounts around the face to reduce the appearance of permanent deep wrinkles |
| Cheek Filler | Replacement of structure and support in the cheek, a critical anchor point, which strengthens the look of your face |
| Tear Trough Filler | Replacement and rejuvenation of volume deficits in and around the eyes, improving the appearance of dark circles |
| Nose Filler | Non-surgical rhinoplasty – correction of bumps and ridges |
| Lip Filler | Correction of asymmetries and imbalances |
What's involved in the dermal treatment process at Amara?
All filler clients are allocated 30 mins for their appointment with a doctor. Here, you will be asked about your concerns and what you're hoping to achieve.
The doctor will take some photos, put them on an iPad and show you the treatment plan they've specifically designed for you.
An open discussion will take place and if you wanted to go ahead with treatment on the day we can do that. The treatment itself will take no longer than 20 mins.
Alternatively, if after your consultation you wanted to go away and think about it and come back a couple of weeks later, you could do that too.
How long do dermal filler treatments last?
This is highly patient and treatment specific. We use products from the Juvederm Vycross Range of premium dermal fillers. All the products are licensed for a minimum of 12 months although this varies with where the product is places. In areas of high movement, the product will break down more quickly.
Knowing the differences between male and female facial anatomy is key
The best weapon in achieving the best male treatment results is understanding the differences between male and female faces. If these differences are respected and the treatment adjusted accordingly, impactful results follow.