Profhilo For Men | Skin Conditioner Essentials
Area of Concern::
Skin that needs a little bit of a turbo charge. Dull, inelastic and weak skin.
Assessment::
You will need a consultation but the vast majority of people over the age of 28-30 are suitable candidates and will see value in their results.
Treatment::
The initial treatment is two sessions, one month apart. This initial program is essential to realizing full results. Top ups performed in single sessions every 6-9 months.
Time Taken::
The consultation and assessment is 10-15mins and injection time is 10-15mins. We allocate 30mins for each appointment.
Comfort::
This is a very simple procedure that is tolerated very well.
Results::
Minor immediate swelling which resolves quickly. Results will be noticeable within a week, with peak impact at 28 after the second session where your skin will be smoother, stronger, better toned and more elastic.
How long will it last?::
Following the second treatment, impactful results should last for 6 months.
How mush does the treatment cost?::
First session €400 Second session €200 Top Ups €300
Strengthen your skin with Profhilo
Profhilo is not a dermal filler and it's not a form of anti-wrinkle injections either. Nothing about it will change the shape of your face. Profhilo only works in the skin.
Unlike traditional cosmetic injections which are target at altering the appearance of wrinkles and adding definition, Profhilo targets the machinery in your skin that make collagen and elastin.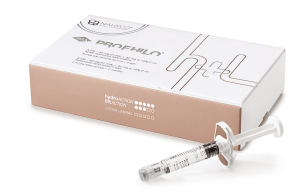 The smart technology in the formulation of Profhilo gets your skin working at rates that ensure the structural components of your skin are replenished properly. This means skin condition, tone, strength and elasticity remain at their optimum levels.
The hyaluronic acid its made from also acts like a super-hydrator – attracting water and maintain your skins volume over long periods of time.
[grw id="55650″]
What is Profhilo for?
Profhilo has filled a gap in the injectables market. It's about skin quality and conditioning.
If you are concerned with dull and lifeless skill, and looking to give your skin a boost then it's for you.
Having been injecting it in clinic since 2019 we can say that it is suitable for most anyone over the age of 28-30 as this is when collagen and elastin in our skin starts to deplete at greater rates than they are replaced.
Is Profhilo a dermal filler?
No. While made of hyaluronic acid it is not like a traditional dermal filler and cannot be used as one. This product is all about stimulating your skin – not filling wrinkles or adding definition to deficits.
What are the benefits of a treatment with Profhilo? What results can I expect?
stronger skin
more elasticity
better tone and overall condition
firmness
long-term hydration
Is it quick, easy and effective?
Yes.
A consultation is necessary before everything we do because we are a medical clinic first and foremost.
The treatment itself takes all of 15 minutes with no downtime and only a very slight risk of a bruise. There are 10 injections around the face in total.
The total time in clinic is just half an hour.
You will need two sessions a month apart to start.
Results will be noticeable within a week of the first session and at a maximum a month after the second.