The Red Carpet or Lunchtime Peel - No Downtime Required
A favourite among celebrities before red carpet events, this 30 minute peel is universal in its access, appeal, and application.
It is suitable for all types of skin, at any time with no downtime, and it addresses everything you want a peel to address to leave your skin looking and feeling fantastic.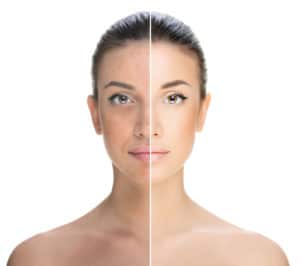 What is the ZO Stimulator Peel?
The ZO Stimulator Peel is a gentle peel with no scaling or down time. It uses three different acids to actively spruce up your skin in just half an hour. It addresses all core aspects of the skin renewal cycle making it perfect for a gentle pick me up or maintenance.
What can I expect from the Stimulator Peel?
This peel does a little bit of everything and as always it's all based around the skin renewal cycle and making sure your skin's natural production and cellular functions are working properly.
| | | | |
| --- | --- | --- | --- |
| Improve sun damaged skin | Improve hyperpigmentation | Soften fine lines and wrinkles | Stimulate collagen production |
| Gentle but complete exfoliation | Increase your skin's robustness | Give your skin a glow | Age spots and freckles |
What does the ZO Stimulator Peel involve?
Let's break it down into 6 simple parts.
Cleanse

Using ZO's Hydrating Cleanser your skin is washed in preparation for activation and the peel itself

Exfoliate &




Activate

ZO's Exfoliating Polish with magnesium crystals is used with an activator to finalise your skin's preparation for the peel.

Peel & Neutralise

The three Alpha-Hydroxy-Alpha (AHA's) acid preparation is applied: glycolic acid, lactic acid, citric acid. Together the preparation effectively exfoliates and removes dead skin cells. The glycolic acid works on controlling excess oil levels (which makes it excellent for acne affected and prone skin) while the citric acid gets to business giving you a glow.

Replenish

ZO's Growth Factor Serum is like a turbo button for your skin's cellular functions. It stimulates collagen growth and improve elasticity.

Soothe and Nourish

ZO's Daily Power Defense will perform anti-irritant and anti-inflammatory duties while also sending repair enzymes to correct skin damage.

Protect

One of ZO's high grade SPF's will be used to protect all of the good that's just been done.
[grw id="55650″]
How often do I need to get a Stimulator Peel?
You can expect a single peel to improve your skin but we would recommend a course of 4 with 2 weeks in between to see optimal results.
The time in between the peels if you decide to get a course is important. It's best to follow the timing set out by your skin health specialist.
Testimonial
"I was slightly nervous before my Stimulator Peel but Siobhan made me feel at ease from the moment I stepped into the room and talked me through each step. The procedure was relaxing and pain free and my skin looks transformed after. Siobhan was incredible and gave me in-depth advice on how to manage my problem areas and I felt more knowledgeable and in control of my skin when leaving. Recommend highly."
Alex, 30, Dublin