Exion – RF Microneedling Essentials
Area Treated:
Skin of the face, neck, décolletage and back of hands are most common.
Assessment:
You will be required to have a skin scan and a consultation with a skin health specialist before treatment.
Treatment:
Session with Exion RF microneedling device.
Time Taken:
60mins per session - this time may be extended in the event of treating multiple areas at once.
Comfort:
Greatly improved over traditional microneedling devices. Most people do not require a topical anaesthetic.
Results seen:
Noticeable after a single session with aggregated results as you pass through your course. Final results seen a few months after your final treatment.
How long will it last?:
This is patient dependent but results can last up to a year. Maintenance top-ups can be perfomed.
Cost of treatment:
€350 per area per session. Neck can be added to face treatments for €100 per session.
Welcome to RF Microneedling with Exion at Amara!
Exion is the cutting edge next generation microneedling device from BTL. Harnessing the power of radio frequency (RF) and artifical intelligence (AI), it delivers powerful skin rejuvenation results.
This next generation device uses two technologies to reduce the appearance of lines and wrinkles, improve skin tone, improve texture, and counter sagging skin. Unlike older microneedling technologies, Exion uses AI and radio frequency to deliver smoother, tighter and more youthful looking skin.
Exion targets your fibroblasts with radio-frequency controlled by artificial intelligence to produce more collagen and elastin than was possible before, all while reducing invasiveness. It increases the production of Hyaluronic acid by an incredible 224% making it a must for people concerned about the condition of their skin.
What does Exion treatment do?
Exion is a revolution in microneedling treatment that treats the appearance of:

fine lines and wrinkles
sun damaged skin
sagging skin
acne scarring
skin vitality and strength
It's a fractional radio-frequency needling device with integrated ultrasound that stimulates your skins cellular machinery, promoting the production of collagen, elastin and hyaluronic acid. These are the three super components of healthy, strong, and youthful looking skin.
For people with concerns about their skins vitality, condition, or sagging, Exion is a powerful treatment tool.
What are the benefits of treatment with Exion?
Well, there are many versus previous microneedling devices
– the fractionated radio-frequency allows for highly targeted delivery of energy to the skin, with less damage to surrounding tissue
– it's less invasive without a reduction in efficacy thanks to AI which allows needle penetration to 4mm but controlled energy delivery to 8mm
– it is a single pass device making it quicker and less invasive while greatly reducing the discomfort, redness and downtime associated with earlier generation needling devices

The intelligent design and delivery of energy means more effective stimulation of fibroblasts which in turn results in collagen, elastin and hyaluronic acid production. This translates into stronger, healthier looking, tighter, and more resilient skin. The results speak for themselves.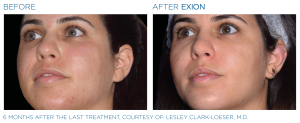 How does Exion work?
The science underpinning Exion is not new. The aim of all microneedling is to perform controlled damage to the skin, which stimulates your fibroblasts into repair mode, and thus increase the production of the structural and volumising components of your skin.

What is new about Exion is how it achieves this. The fractionated radio-frequency is delivered beyond the depth of the needle by artificial intelligence. This means the needle passes to a depth of just 4mm, while the treatment is effective to a depth of 8mm.
What are the benefits of Exion treatment?
Exion has been clinically proven to improve the appearance of:
– dull, sagging and inelastic skin
– fine lines and wrinkles
– sun damaged skin
– acne scarring
– large pores and skin texture
What does an Exion treatment involve?
In short – very little. After a consultation where we run through a few things, we pop you in a treatment chair, and run a single pass of the needling device over your area of concern.
Does Exion treatment hurt? Is there downtime with Exion?
Because AI allows effective treatment beyond the depth of the needles themselves, the microneedling experience with Exion is much more comfortable than older technologies. Where topical anaesthetic creams were once a must for a microneedling session, they are mainly not needed with Exion.
Likewise, because the depth the needles penetrate to is reduced, downtime is greatly reduced. There will be some redness but when each of our skin health team tried the treatment, it resolved in a matter of hours versus a couple of days with other devices.
When will I see the results of Exion? How long do Exion results last?
You must start with a course of 4 to reap the full benefits of this treatment. These are usually done over the course of a few months with a three-week interval between treatments. The final result of the initial course is seen a few months after the last treatment.

The results last for up to one year but top-up treatments can be organised to maintain an impactful result.