Anti Wrinkle Injections for Frown Lines Essentials
Area Treated:
Frown lines - Eleven lines - Glabellar lines
Assessment:
Our doctor will examine exactly how you move your brow muscles when expressing and design a treatment specifically for you.
Treatment:
Anti-wrinkle injections
Time taken:
Assessment 10-15mins, Treatment <10mins
Comfort:
People rarely report this treatment as uncomfortable
Results seen:
Noticeable within 2-3 days, full onset and smoother, fresher appearance at 2-4 weeks
How long will it last?:
3-4 months is typical. Repeated visits to the same doctor can see this extended to 6 months for some people as our doctors get to know your face
Cost:
€300 as a single area treatment
What are frown lines?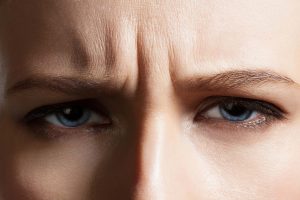 Frown lines can make us appear more angry and tired than we feel. When we squint, look surprised, look angry, strain at a computer screen or raise our eyebrows, muscle movement causes frown lines to appear.
The most noticeable lines appear above the bridge of the nose in between the eyes. They are sometimes referred to as 'eleven lines'.
Frown lines appear during expressive movement of the brow.