Anti Wrinkle Injections for Frown Lines Essentials
Area Treated:
Frown lines - Eleven lines - Glabellar lines
Assessment:
Our doctor will examine exactly how you move your brow muscles when expressing and design a treatment specifically for you.
Treatment:
Anti-wrinkle injections
Time taken:
Assessment 10-15mins, Treatment <10mins
Comfort:
People rarely report this treatment as uncomfortable
Results seen:
Noticeable within 2-3 days, full onset and smoother, fresher appearance at 2-4 weeks
How long will it last?:
3-4 months is typical. Repeated visits to the same doctor can see this extended to 6 months for some people as our doctors get to know your face
Cost:
€300 as a single area treatment
What are frown lines?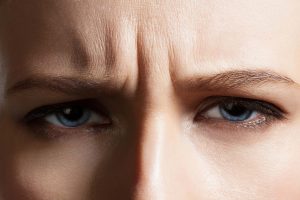 Frown lines can make us appear more angry and tired than we feel. When we squint, look surprised, look angry, strain at a computer screen or raise our eyebrows, muscle movement causes frown lines to appear.
The most noticeable lines appear above the bridge of the nose in between the eyes. They are sometimes referred to as 'eleven lines'.
Frown lines appear during expressive movement of the brow.
Testimonial
"As this was my first time getting anti-wrinkle injections, I was quite nervous about what to expect during and after the procedure. The doctor was amazing, very understanding. She explained the procedure in detail, continually putting me at ease and was very clear about when I should expect to see results. Overall I'm completely delighted with the experience and the results and will definitely be going back!"
Emma, 33, Dublin
How do frown lines affect our appearance?
Expressively, frown lines make us appear more angry than we might be. This is the most common cause of concern for people looking to have them treated.
Over time, over expression of your brow area can cause frown lines to become permanent. This has an ageing effect on our overall appearance.
Why anti wrinkle injections and not dermal fillers?
At Amara we don't treat this area with dermal fillers for safety reasons. There are blood vessels that run up the side of the nose into the forehead that track near where frown lines form. A dermal filler treatment here may block them leading to serious complications and permanent damage.
For this reason we only treat frown lines with anti-wrinkle injections, also known as muscle relaxing injections . The product is safe to use in the brow and is extremely effective at reducing these dynamic lines.
What can I expect from my frown line treatment?
Clients who receive frown line treatment will notice their brow appears much smoother and they will look less tired, angry and much fresher.
Frown line treatment will also prevent the development of permanent creases over time.
Will I look 'frozen' or 'done'?
Over treatment of the brow muscles is the big contributor to the 'frozen look' that is associated with poor treatment results. We tend to treat conservatively at your initial appointment and top up as required at your review.
At Amara, our 'subtle, natural results' approach means we are particularly careful with dosing when treating in this area – this is The Amara Way.
With all anti-wrinkle treatments, it is possible to increase your dose at review, but it's not possible to soften it until the product wears off.