Profhilo – The Injectable Moisturizer Essentials
Area of concern:
Skin on the face, hands, décolletage and body that lacks vitality or is suffering from laxity and lack of elasticity.
Assessment:
A chat with one of our injectors and an examination of your skin will decide if Profhilo will be of benefit to you. Because of the nature of the product, most people will be candidates for treatment.
Treatment:
The initial treatment is two sessions, one month apart. This initial program is essential to realising full results.Top ups performed in single sessions every 6-9 months.
Time taken:
The consultation and assessment is 10-15mins and injection time is 10-15mins. We allocate 30mins for each appointment.
Comfort:
This treatment is very well tolerated with low levels of discomfort. A slight sting can be expected.
Results:
Minor immediate swelling which resolves quickly. Results will be noticeable within a week, with peak impact at 28 after the second session.
How long will it last?:
Following the second treatment, impactful results should last for up to 9 months.
Cost:
First & second session €300 each.Top Ups €300.
The injectable that's all about stimulating your skin
Profhilo is not a dermal filler, nor is it a new type of anti-wrinkle injection in the traditional sense.
While it is made from stabilized Hyaluronic acid, it is new technology that is different to that which you might find in the Juvederm Vycross range of fillers. Profhilo is not about definition, or adding volume like a traditional dermal filler – it is about increasing the production of structural components of our skin which deplete with age; collagen and elastin.
The key here is the way it is formulated: it is highly concentrated and designed to stimulate collagen and elastin production within the skin over long periods of time. The HA in it also draws and retains water, hydrating your skin over very long periods of time. This is why it is often referred to as an "Injectable Moisturizer".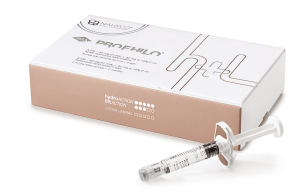 So while it may look like a filler, and while it might be a cosmetic injection, it does very different things to anti-wrinkle injections and fillers.
Profhilo is all about your skin quality, texture and elasticity.
How does Profhilo work?
As we age, our skin cells are not able to replace collagen and elastin as quickly as they once did. This results in a weakening of the structural integrity of the skin – it becomes less plump, less resilient, and less elastic.
Profhilo is a special formulation of highly concentrated hylauronic acid that counters each of these issues by remodeling the substructure of your skin, returning it to a more youthful condition:
Less plump – Profhilo is water-drawing and hydrating over long periods of time
Less resilient – Profhilo stimulates 4 type of collagen re-establishing structure
Less elastic – Elastin is produced at increased rates which gives your skin back its bounce.
Is Profhilo a dermal filler?
No, it is not. The target of Profhilo is the dermis only – and a very narrow part of it too.
It is not suitable for injection onto bone or into lips like dermal fillers might be.
What are the benefits of a Profhilo treatment?
Improved skin strength and resilience
Improved elasticity and bounce
Improved firmness and lift
Improved volume and hydration over long periods
Improved general appearance and glow
What can I expect during my treatment?
You will first have a consultation and assessment.
Following this the injection points – there are 5 on each side of the face – will be marked out. Your injector will then place clinically defined volumes of product by injection into the skin.
These are not random points. They are clinically tested and known as Bio Aesthetic Points (BAPs) – they are points where Profhilo is know to work maximally at delivering results.
Profhilo is also indicated for the treatment of skin laxity across the body and hands.
Does it hurt? What side effects are there?
Profhilo treatment is not considered to be uncomfortable by the vast majority of patients. It is extremely well tolerated.
As with every cosmetic injectable, some injection site redness and slight swelling will occur – this usually resolves within a few minutes to hours.
Bruising is a possibility but aside from that, Profhilo is a low risk treatment.
Who is Profhilo suitable for?
Because it is all about improving the skin, everyone with lacklustre skin or skin laxity is a candidate. There are very few people over the age of 28-30 who wouldn't see valuable benefits from a Profhilo treatment. It is popular among men and women of all ages.
Unfortunately, it is not suitable for those who are pregnant or breastfeeding.