Treatment for Worry Lines & Forehead Lines Essentials
Area Treated:
Forehead lines - Horizontal lines - Worry lines
Assessment:
Our doctor will examine exactly how you move your forehead muscles when expressing and design a treatment specifically for you
Treatment:
Anti wrinkle injections
Time taken:
Assessment 10-15mins, Treatment <10mins
Comfort:
People rarely report this treatment as uncomfortable
Results Seen:
Noticeable within 2-3 days, full onset and smoother, fresher appearance at 2-4 weeks
How long will it last?:
3-4 months is typical. Repeated visits to the same doctor can see this extended to 6 months for some people as our doctors get to know your face
Cost :
€300 as a single area treatment
What are forehead lines?
Forehead lines (also known as worry lines) are one of the 3 most common concerns for people seeking anti-wrinkle injections at Amara.
When we look concerned, worried or surprised, movement of the muscles of the forehead causes worry lines to appear. The most noticeable lines appear horizontally across the forehead. These are sometimes referred to simply as horizontal lines.
Worry lines appear during expressive movement of the muscles of the forehead.
Testimonial
"The doctors here listen to exactly what you want and always take the 'less is more approach' which is what I want. I always look fresher and brighter after my anti-wrinkle treatment and never 'done'. I would, and do, recommend the doctors and lovely staff at Amara!"
Pamela, 50, Dublin
How do worry lines affect our appearance?
Worry lines can age us, especially in their early, semi-permanent form. They are one of the first sets of lines people start to notice because our forehead is normally visible to others and readily noticeable in a mirror.
Why do we treat worry lines with anti-wrinkle injections and not dermal fillers?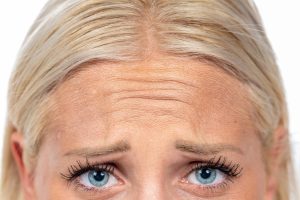 Worry lines are difficult and even dangerous to treat with dermal fillers because of the danger of blocking the blood supply to the area. This is not a concern when treated with an anti-wrinkle injection product.
Anti-wrinkle injections are highly effective at reducing the movement of your forehead muscle. This softens fine lines and wrinkles that are there. It also prevents excessive movement from worsening lines that have started to form, and slows down the formation of more permanent furrows.
What can I expect from my worry line treatment?
Clients who have their worry lines treated can expect a noticeably smoother forehead at rest and during expression. This temporary reduction of movement in the forehead will give you a fresher, more youthful looking appearance. You should still have some movement as we actively avoid the frozen look – the is The Amara Way.
Will I look 'frozen' or 'done'?
Over treatment of the forehead muscles contributes greatly to the terrible 'frozen look'. For this reason at Amara, we treat conservatively but effectively in this region. We always aim to give you subtle, natural results that last – this is The Amara Way.