The Hydrafacial Machine… A Time Machine?
Okay, so today I'm talking to you about our HydraFacial Machine. We have two Hydrafacial machines now in Amara clinic and we got our first one over 10 years ago, possibly the first in Ireland! Siobhan is very fond of the machine and likes to call it her little baby. Others call it a time machine! In this post we'll give you info all about the Hydrafacial performing time machine, buckle up!
View this post on Instagram
Why Do We Recommend the Hydrafacial Machine?
I would highly recommend the hydrafacial treatment over 99% of other facials! Why? Well mainly because it has the ability to do a lot of different things. It's an all rounder. Let me explain…The biggest confusion that I hear with clients deciding if they need a hydrafacial is:
"Well I'm not too sure… I kind of need an acne facial..or, I don't know, maybe I need a hydration facial.. and I also should really get an anti aging facial. So, my biggest problem is…which one on your menu do I pick?"
The All In One Hydrafacial Machine
With the HydraFacial it's the "all in one" option. At its heart, the hydrafacial it like a way of spring cleaning the skin which helps the body to kickstart and create the production of new skin cells. We all get a build up of dead skin which creates dullness on the complexion. This also leads to dead skin cells clogging the pores which can give rise to acne and other skin issues. We all have to constantly battle against sebum production. Sebum is a waxy substance that our skin makes that comes out through our pores. This congestion is a primary cause of lumps and bumps, and blocked pores that contribute to acne over time. Hydrafacials are great at removing this dead skin which makes it perfect acne treatment.
Is The Hydrafacial Machine Right for Me?
The reassuring thing about getting a hydrafacial is knowing that you have chosen the right facial. Maybe this is why so many people fall asleep in the treatment, safe in the knowledge they've made the right choice for their skin and will get all the benefits of a Hydrafacial. We can have our cake and eat it because it does pretty much everything you would want from a facial. Here are the steps in a hydrafacial:
Remove the dead skin cells.
Use a skin peel to polish the skin. This clears the path to the pores by breaking up and soaking out the debris. This debris collects in a container, you can literally see your face getting cleaner!
Feed the skin with antioxidants and hydration.
Admire your highly polished plump complexion.
LED light has the ability, via blue and red light, to reduce the amount of bacteria present on the skin, recharge the skin and reduce inflammatory responses in the skin.
How Often Can I Get A Hydrafacial?
The HydraFacial is a treatment that most people repeat at about a six week cycle. This is exactly when your dead skin cells will have begun to accumulate again on the surface of the skin. The perfect skin cycle using hydrafacial to optimize is as follows:
You make new skin.. the skin cells eventually die
dead skin accumulates
we remove the dead skin using the hydrafacial
you continue good skin care at home
Follow these steps to keep your skin radiant and youthful all year round, and all the seasons of your life! This is a key part of keeping optimum skin health.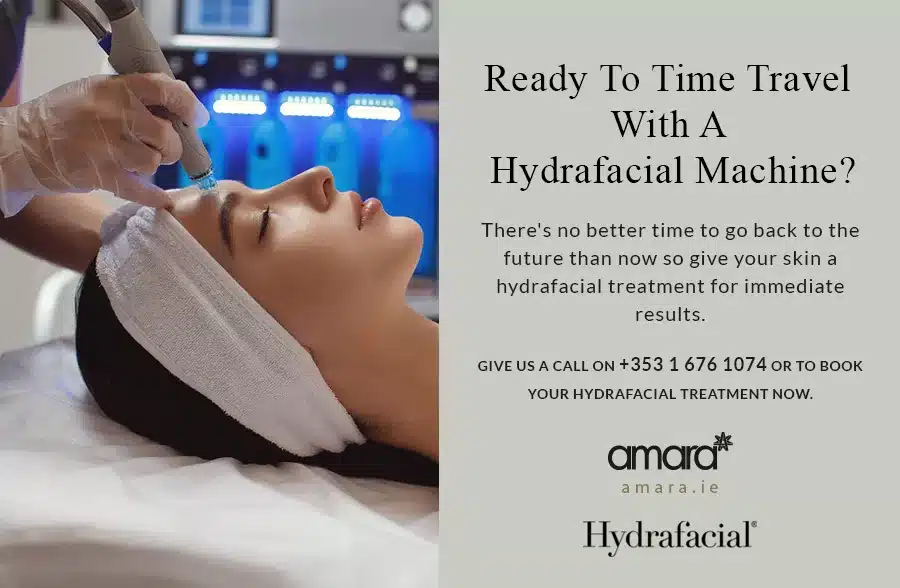 Ready To Time Travel With A Hydrafacial Machine?
There's no better time to go back to the future than now so give your skin a hydrafacial treatment for immediate results. You can check out our full Hydrafacial FAQ here or give us a call on +353 1 676 1074 or contact us online to book your hydrafacial treatment now.