Your Complete Guide to Wedding Skin Treatments
Every bride wants to feel amazing on her big day, and skincare plays a big part in that final look. Wedding skin treatments are something we discuss with soon-to-be brides about all the time. Recently, we had a conversation with much in demand Dublin based make-up-artist Sinéad Murphy (pictured), which we found very interesting. It gave us inspiration for this blog. Sinéad revealed that when working on a bride on their wedding day, she's "trying to achieve a look that enhances their natural beauty, while also making them feel like the best version of themselves." She was quick to point out the importance of good skin here too. "Skin plays a huge role in the application of makeup," she explained. "To achieve the best results for a flawless application, it's so important the skin has been prepped and looked after."
Creating the Perfect Canvas with Wedding Skin Treatments
This makes complete sense to us here at Amara, as our team also works with your skin trying to produce a great canvas for artists like Sinéad to work with. The wedding make-up trial is often when brides start thinking about other options, to ensure their makeup sits even better on their face.
However, there are plenty of things to think about when considering visiting us regarding wedding skin treatments and injectables. Once off treatments are not wonder cures for skin concerns and with injectable treatments come some factors you need to be aware of.
So, what timelines are important to keep in mind when looking at pre-wedding skin treatments?

We asked Dr Paul Munsanje (pictured – Medical Director and Owner) and Siobhan (Staff Manager and Senior Skin Health Specialist) about skin treatments for weddings, and the timelines involved.
Say Hi to the Hydrafacial
Hydrafacial and Home Skin Care Program Timeline
Initial Consultation and Chat: 6 months before the big day
Ongoing: Your skin health specialist will design a home skin care program with intermittent Hydrafacial treatments that works to your specs in terms of time and budget.
Final Boost: A Hydrafacial a week before the wedding for that final glow and soft smooth skin before your wedding day and make-up application.
Let's start with the visible surface of the skin. "Injectables for show, home care and Hydrafacials for glow!" says Siobhan. When it comes to the Hydrafacial, Siobhan is keen to note that you shouldn't be confused by the word 'facial'. "This isn't a cucumber-on-your-eyes spa treatment, it's a medical grade treatment with active ingredients. You can expect a deep cleanse, a peel, and a powerful extraction before your skin is infused and protected with serums." The benefits of it as a wedding skin treatment are plenty, as Siobhan explains, "The Hydrafacial provides a deep reconditioning service for your skin. You'll be left with immediately improved, glowing skin. This is obviously something you want as a bride getting prepared for a wedding makeover." Arguably though, Siobhan notes the best thing about a Hydrafacial is that "It prepares the skin perfectly for the introduction of high-quality ingredients so you can continue the work of getting your skin wedding ready at home. There's limited use in a once off treatment. Good skin requires work and this is where your daily home skin care becomes important."

During your Hydrafacial is the time when you can chat with Siobhan and our skin care team about products. "Everyone's needs and budgets are different. Every day I deal with people with different stories. There is no template. But if you're not doing the work at home, all the benefits of the a Hydrafacial will disappear more quickly than if you continue feeding your skin and treating it well at home." As a wedding skin treatment, a Hydrafacial is a good first step.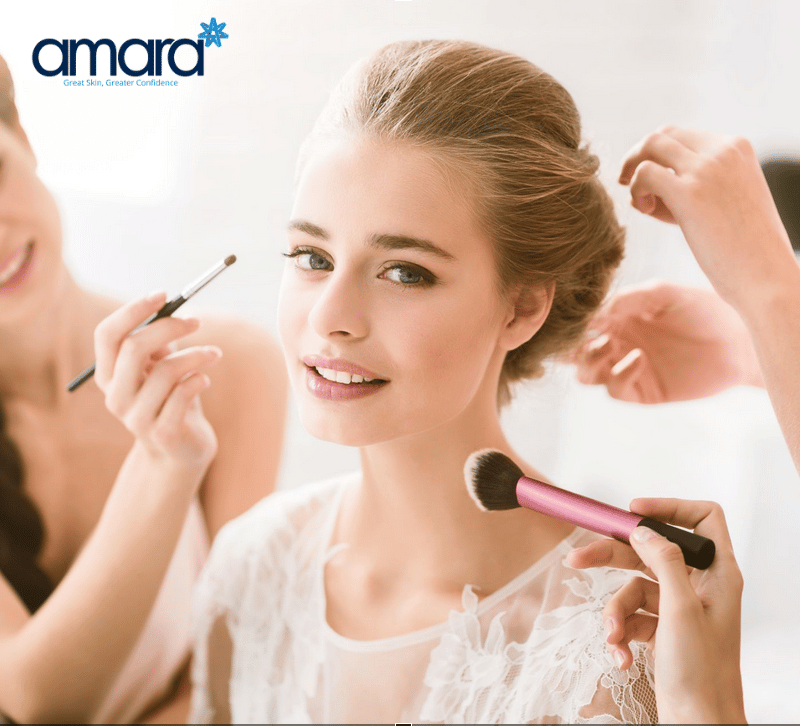 Botox & Your Wedding Day
Botox Wedding Timeline
Initial treatment: Six weeks before the date
Review appointment: Two to four weeks after initial treatment
Buffer time: You'll be all done two weeks before the date and the result will look its best on your wedding day
Result: A fresh, natural appearance which will improve your overall look, and enhance your make-up application for the big day.
A wedding is often the first foray into anti-wrinkle injections for many people. Brides beware though, says Dr Paul, "Not everyone is aware that Botox takes two weeks to take full effect. Further to this, a top-up or fine-tuning treatment is sometimes required. We perform top-ups between two and four weeks after the initial treatment and this also takes two weeks to kick in. So in reality it's anywhere from 4 to 6 weeks after your first visit to me before the final result is seen."
Timing Your Top-Ups
"I always want to give people a natural result", explains Dr Paul. "It's what Amara has built its reputation on. You can add more to a Botox treatment, but you can't do anything if it's too strong. So, by treating a little conservatively at your initial appointment, and then bringing you back in a couple of weeks later I can see how the treatment has settled. I can then make the tweaks needed to get you the result you came to me for if needs be. It's a two step process that ensures a great, natural result." To save the stress of worrying, Dr Paul recommends doing a full cycle of Botox about six months before the big day. "This will usually wear off at about four months, teeing you up perfectly for treatment six weeks before the wedding."
Dermal Filler & Your Wedding Day
Dermal Filler Timeline
Treatment: At least six weeks before the wedding
Review appointment: Not required, but we will always make time for you to come in and have a chat if you're concerned about something
Buffer time: The six-week timeline means these long-lasting products will have time to settle and if you bruise it will have healed
Result: A rejuvenated appearance with more well-defined structure and volume
Dermal filler meanwhile varies in terms of technique and product used. "It's more complicated and artistic than Botox in many ways", notes Dr Paul. "Fillers need to integrate with your soft tissue after treatment, and this takes time. So really, you're only seeing the final, settled result, on average a month after the treatment."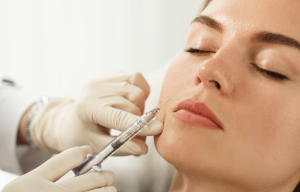 Dr Paul remembers a patient who came to him for a lip filler treatment, and it was only when she was in the treatment chair that he discovered she was getting married the next day. "I jumped back and told her that although I felt we could get her a great result, doing it the day before her wedding was really not a great idea. I told her the result would need to settle and that while my bruising rate is low, I'm not so arrogant as to think I can avoid them 100% of the time. Anything can happen. In some cases with filler, it can take up to six weeks for a bruise to fully heal. Nobody needs that hanging over their head before their wedding day. After a little convincing, she agreed to come back after the wedding."
Another thing to note is that filler results are generally very long lasting if high quality products are used. "Depending on the filler I choose, and the treatment area, results can last from 10 months to a few years. So you can have a treatment a few months before a big event like a wedding and still see the maximal benefits on the day." With all this in mind Dr Paul notes that dermal filler treatments should be done "a minimum of six weeks before your wedding day. A safe way of looking at it is the earlier you come in to chat about filler, the better. We can organise a timeline that works best for you so the result is settled and risks accounted for. This will mean you'll look your best on your wedding day. It also ties in nicely with the Botox timeline."
Plan Ahead For Your Wedding Day
The most important takeaway here is that if you are looking to have great skin on your wedding day, you need to be planning ahead by 6 to 9 months. By picking up the phone earlier, we can give you advice on how best to approach your wedding skin treatments during the lead up to the big day. You'll feel better about yourself and of course, make-up artists like Sinéad will be able to give you the best makeover possible with the tools at her disposal so that on the day, and in the photos, you look your very best.
If you'd like to chat through treatment options or a skin program ahead of your big day, you can get in touch with the Amara Clinic team here. Find out more about Sinéad's offering on her Instagram page.